Build inner SUBSTANCE &
Master the art of a happy, 
healthy
&
successful
life
a 8 Week Program to learn the skills to build inner SUBSTANCE, to raise self-esteem & self-confidence
and to master the art of a HAPPY, HEALTHY & SUCCESSFUL Life
885 EUR
Get your life under control. Become a leader to yourself & others.

Your life is a struggle? You suffer from permanent doubts about yourself and your life? Getting easily influenced by what others say not being MASTER of your own life? You have the impression you are not important, and others drive your life, and your needs do not count? Others a better? You are unhappy, lack SELF-CONFIDENCE, let other people control your life and thoughts? As a result, you have permanent ANGER or frustration, confusion about your life, your intuitive insights, your feelings? You suffer from chronic pain, constant CONFLICTS & doing constant efforts…
Is this familiar to you? Get back control over your life, become the best version of yourself.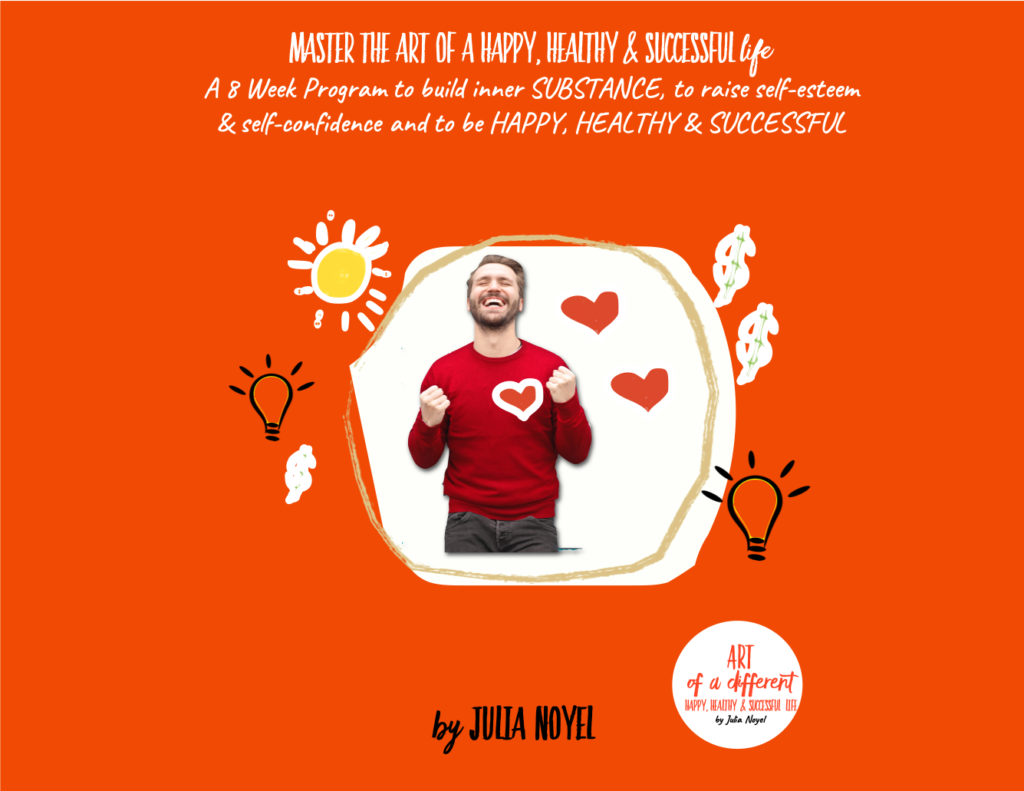 Why this programm?

Sometimes we have not learned important skills when we were a child such as self-awareness, autonomy, building a strong mindset, healthy communication skills, boundary & emotional management, organisation skills and much more necessary for strengethening our inner SUBSTANCE and have high self-esteem, a strong mind and loving vibrations.
What is the
programm about?
In this program, you will learn the FORMULA I have used to build inner SUBSTANCE to lead an autonomous life, develop self-understanding, acceptance and self-love, feel ok, feel safer in life, be self-confident, have a strong mind, be a better communicator & how to set healthy boundaries, be assertive, become a more mindful person, be more efficient and how to set and reach my goals and set a solid foundation to be happy, healthy & successful in life. This 8 weeks programm is based on my 9 Steps SUBSTANCE-Formula, easy memorable and a clear framework I developped for myself to increase self-esteem and self-confidence, get a strong mind and set a solid foundation for a happy, healthy & successful life.
Why does this
programm work?
Having worked for more than 10 years as professional trainer, being a critical thinker, creative, perfectionnist, intuitive researcher, deeply loving woman always thriving for excellence and motivated by being one of the best in my field, as certified coach and psychological advisor I have largely studied and tested various tools and advice in the personal development industry. Having successfully overcome my own struggles I know what really worked for me and what did not. I share with you in my programm what truly changed my life and integrated all the feedback of my clients!

What you will learn
During my 8 week 'build inner SUBSTANCE' intensive coaching program you will acquire important skills to be more self-confident, have a strong mindset and increase your self-esteem and set a solid foundation to lead a happy, healthy & successful life.

You'll discover 9 simple AND life transforming and inspiring steps to:

improve self-confidence and self-esteem

get a strong mindset

better know yourself and dare to be authentic, develop self-awareness

better handle your emotions

dare speaking up for yourself and communicate in a healthy way

stop wanting to please others

create a life filled with true love and inner peace, raise your vibrations

create security in your life and feel safe in life, protect against manipulation and narcists

say 'no' and respect your boundaries


assert yourself in personal life or at work

let go (let go of control over oneself and others) and forgive

become an autonomous and responsible person

be efficient in life!
Detailed programm: Learn the art of a happy, healthy & successful life in 9 simple steps:
Phase 1: In this phase you will become a specialist of yourself.
You will understand and master who you truly are. I'll provide you with various exercises that helped me to become a specialist in myself. You will free yourself from old roles you were supposed to play so that you will become the person you are truly meant to be. The exercices are easy and fun to better understand yourself and shine your authentic self.
Phase 2: In this phase you will learn to better understand yourself on a day to day basis
You become a true manager of your daily life so you are able to detect any blockages or challenges early and can adapt.
Whereas in phase 1 you will have discovered your true gifts and authentic self, in phase 2 you will learn how to use your natural assets in order to detect what is going wrong on a daily basis so you can quickly adapt and find solutions. I will share with you all my personal secrets I used to develop my self awareness.
Phase 3 will help you set healthy boundaries by building a strong inner Substance.
We will work on your uniqueness and individuality how to relate to others in healthy, set boundaries from the inside out so you are,
seen, respected, create happy, healthy and successful relationships in a mindful way with others.
Phase 4: In this phase you will learn how to protect yourself and beloved ones.
You will learn how to create safety in your life, protect against unhealthy behavior coming from others, and feel safe within yourself no matter what. I will teach you all the techniques I use to detect unhealthy situations and behavior quickly and respond in healthy ways.
Phase 5: In this phase you will learn how to accept yourself and others.
I will teach you tools I have developped for myself that helped me to become more open-minded and tolerant towards myself and others.
This will help you to develop your self-acceptance and tolerance towards people that are different and allow you to improve your relationship with others, find peace in mind and become a more mindful and person.
Phase 6: In this phase you'll learn how to become a truly autonomous and self-reliant person.
We are working on your thinking and self-motivation skills. This will help you to stop seeking for approval and of being codependent,
you will become more autonomous so you can rely on yourself for your happiness, health and success.
Phase 7: In this phase you'll learn how to nurture your needs.
We are identifying your needs and when they are not respected. I will show you how to detect your needs as well as my personal secrets
how to make yourself independent from your needs.
Phase 8: In this phase you will learn how to raise your vibes and attract love into your life.
I will share with you my favourite tools how to spread love & compassion and raise your vibes. This will allow you to attract more happiness, love and success into your life.
In Phase 9 you will learn to become an efficieny guru in order to master your time and money, progress in life and succeed in your goals.
I share with you simple and creative tools I have developped as a child and still use to master my time, organize myself and be more efficient. I also show you how I reach my goals.
Get all the benefits
Benefits of my Build inner SUBSTANCE intensive coaching program:
Better relationships

being able to protect against manipulation and toxic behavior

Increased productivity and effectiveness

Better well-being and better understand pain
Decrease anxiety and stress


Emotional intelligence and become emotionally independent

Concrete and practical methods with a body-mind approach


Confidence coaching for more self esteem and a healthy life

A comprehensive and integrative approach

(Taking into account body and mind)

Simple and inspiring tools easily applicable by everyone


An action plan tailored to the needs of each participant
During this intensive online program 'Build inner SUBSTANCE for high self-esteem & self-confidence'

a mixture of different approaches help you discover a variety of methods and to select the most suitable for you to help you to Master the art of a happy, healthy & successful life.
For whom?
All people who want to become balanced, lead a happy, healthy & successful life, raise self-esteem, be self-confident, get rid of doubts, want to be truely autonomous, authentic and get control back over their life;
Weekly online material
For the 8 weeks coaching program: Once per week you will receive an email with inspiring content to work through, proven strategies, tools and my personal advice and secrets for having more self-confidence and being happy, healthy & successful in life.
Downloadable workbook
You will get small portions once per week for download for 8 weeks class. You can keep it, print it and work through it over and over again. Worksheets, Self-check, Self commitment sheets with more than 175 pages exercises.
Payment flexibility
The rate for individuals is 885 EUR (installment payment upon demand, 1, 2, 3,6 (=148 EUR/month) times) for the 8 weeks coaching program. The rate includes videos, a workbook, checklists, quizzes and self-check for the 8 week program.
Practical information
* Please note that all my coaching programs are also offered as individual intensive training (face to face, Skype or telephone) worldwide in French, German and English! Contact Me!

8 week intensive Coaching Program


Intensive Coaching Program: build inner SUBSTANCE, increase self-esteem & self-confidence
and build a solid foundation for a happy, healthy& successful life:.
8 weeks intensive coaching program
2,5 hrs video sessions
175 pages workbook
approximately 5 to 7 hrs self-study/week
885 EUR
For installment payment please contact me. Once you ordered the programm, I will contact you within 24 hours to fix the 6 appointments and send you first session content.
Why learn with me?
I know how it feels to struggle in life, lacking self-confidence, mindful communication skills, and emotional awareness, feeling unsafe, insignificant, lacking self-esteem, struggling with strong emotions. I have always wondered why in school we do not learn all skills to master a happy, healthy & successful life. I have been early passionate about learning the right skills to become the best person for myself and others, to create mindful and authentic meaningful harmonious sustainable relationships in my life while still being autonomous and have control over my life. Having tried a bunch of advice that did not work for me in my private life and as a professional trainer or that were not in alignment with my human values of kindness,  love & acceptance, I have created a 9 step success formula (SUBSTANCE-Formula) helping myself to reach my goal of not only building a solid foundation for a happy healthy & successful life but also for becoming a great person for myself and others, creating balance.
Passionate about authenticity, love, and driven by excellence I made it my mission to help everyone to set a solid foundation for a happy, healthy and successful life, and becoming a self-confident and loving person. In this programm I share with you the 9 step process I used to reach my goal. I am a certified coach, consultant and trainer and I teach people globally how to live a different, happy, healthy AND successful life. I have more than 15 years in the corporate world working for various companies and famous business schools as Management and HR consultant.
© Photo credit: my profile picture: www.alicedardun.com, Photo by bruce mars from Pexels, © Julia Noyel 2016 Copyright. All rights reserved.http://substancecleansing.com/