Follow your dreams and make your dreams become true.

You are unhappy, not successful with your current life?
Imagine waking up every morning feeling excited to start your day! The good news is that creating a life that suits you, living in harmony with your values, being different from others, feeling happy, healthy and successful is possible! You can learn it. And I am eager to teach you powerful tools and share with you my secrets.
I completely changed my life since 2008. After drivingvery morning to the office which a huge stomach pain, being blocked for hours on the ugly high way, stress, a constant feeling of boredom, fear of breathing as I was living in a completely polluted city, and living without any passion, romance and intimicy, I divorced, quit my full time job and started working on my own. Today I am absolutely passionate about my life, living at the seaside, smelling lavendar aroma and scent of pine trees in the morning, going after work to the beach, listening to the waves, the laughter of couples in love and playing children, being surrounded by romance, beauty and nature and lovely, kind and emathic people.  I live at a place I love and doing what I love. I am trainer, coach and consultant, and writer. I wrote five books all from scratch and actually do not know what to do with all my creativity.
If you feel like things can't go on like this. Something has to change in your life then it is time to make the first step.

Realise you ideal life! Now. It is possible!
In my self help book "black sheep live better: how to realise your dream life step by step" I reveal how I created the life that suits me and show you step by step how you can do it, too.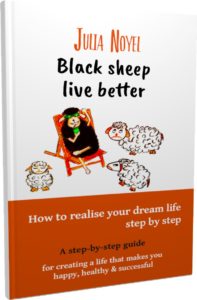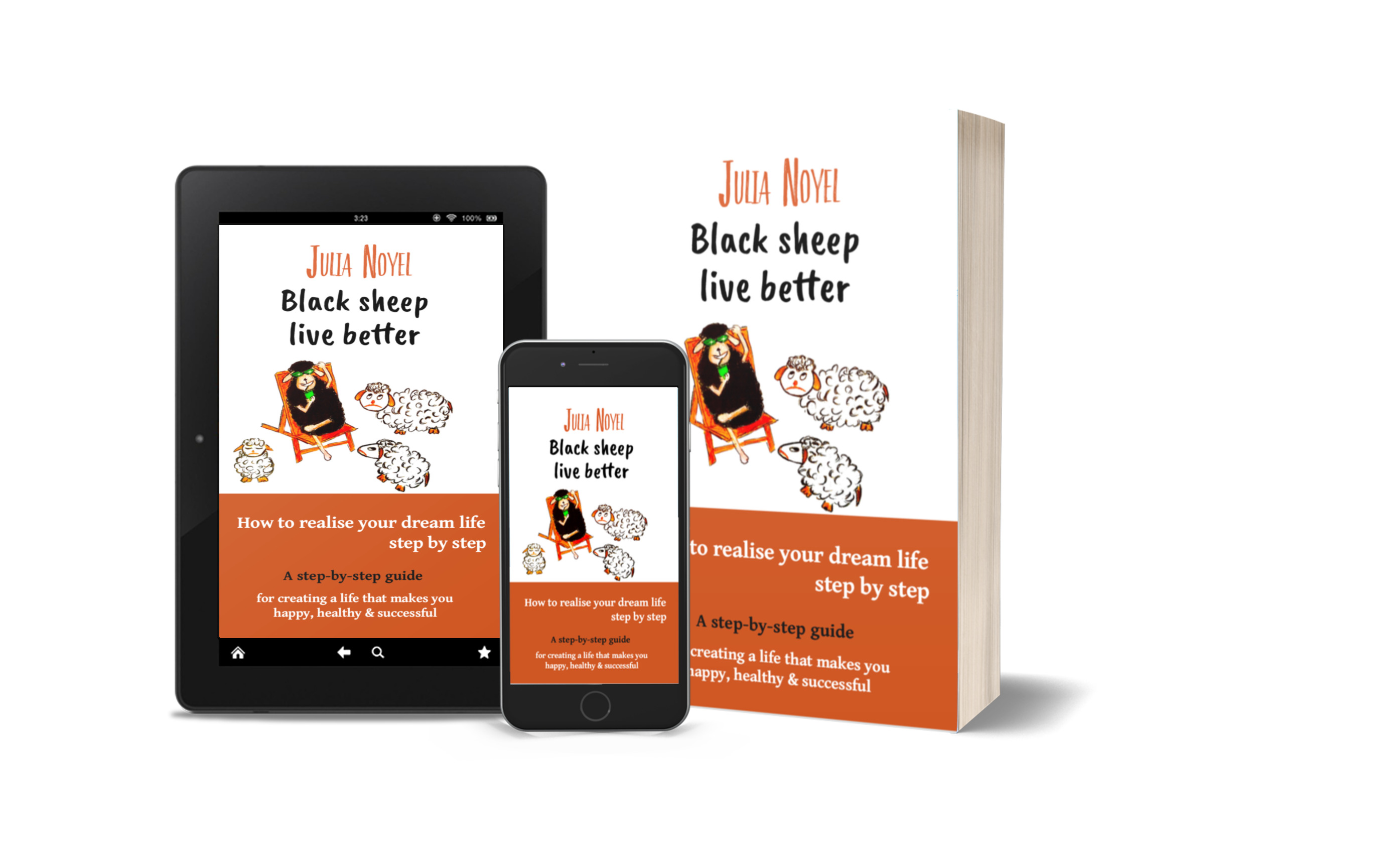 In my book, you'll:
Learn Why it is urgent to change your life
Discover Why we cling to a life that makes us unhappy
Understand The consequences on acting on false beliefs
Discover Which life suits you
Learn how to realise your dream life
learn powerful tools to make the first step to realise your dream life
powerful tools to persevere
Get instant access NOW to:
Practical exercises, check lists

and

self-tests

that 

help you discover

your personal

needs

Powerful tools to change your beliefs and transform your life

Inspiring examples

(

personal

and

client

examples

) that

encourage you

(

no matter

what age

)

to make immediate

change

.
Change your life step by step
Get E-Book or printbook now on Amazon
About the author
Julia Noyel completely changed her life since 2008. She has worked for many years in the fields of HR, change management and personal development, and teaches highly sensitive and creative people how to lead a different, happy, healthy and successful life.
Credit photo: www.alicedardun.com