Change your life successfully – interview with julia noyel
You want to change something but you do not know how?  Imagine how you will feel when you wake up every morning, feeling happy to start your day, living at a place you love, having fulfilled your deepest wishes. It is not too late.
Change your life – A dream?
Julia NOYEL, Coach, Consultant and Trainer and author of the book, black sheep live better: how to realize your dream life step by step, shares in this interview how she realized a life that suits her and makes her happy.
Mrs Noyel in your book "Black sheep live better," that was published in first in German in 2013,published in November 2014 in English you say 'black sheep are happier'. In our society a black sheep has a negative connotation. Why did you choose this title for your book and what do you mean?
Julia Noyel: I just wanted to change this way of seeing things, turn this very negative image that society has of people who dare to be different. Being highly sensitive and creative, very intuitive I always felt different and wanted to realize my own life. My goal was to put the black sheep in a more positive light. People who differ from the great mass, who dare to realize their ideal life are not necessarily negative, strange. For me it means the opposite. They have courage, they live a life that suits them, they are more authentic, happier, healthier, more fulfilled.
What is the subject of your book and coaching programs?
Julia Noyel: They are for all those who wish to change their lives and realize a life that suits them, especially INFP, highly sensitives, empaths, intuitives. I wanted to share my experience in my book and training and encourage everyone to live a life that suits, to be happy, healthy AND successful. In my book and coaching you will not find one right solution, but tips how you can achieve and lead authentically a life that makes you personally happy by using your own innovative approach by using your unique gift.
Hum. You give a lot of personal examples in your book and training programs. Why you wanted to change your life?
Julia Noyel: I studied what was recommended to me; to study economics was considered good on the resume. I found my first job in a large consulting firm, this was in accordance with my studies and my career, I have earned my living, I was recognized for my skills, but I wanted to have enough time to do the things I really liked to do, be available for things that were important to me, my children, my spouse, my family.
. I wanted to help people, do things that made sense for me to do more creative things. I've changed jobs every two years. My body was telling me that I was not in harmony with myself.
What do you want then change in your life?
Julia Noyel: I am not one of those who can work all day in an office. I am very close to nature and I love beauty. I want to spend my time in a healthy, safe, beautiful space. Long hours of work in a tight and impersonal space, and many people is not what I like. When I was back in my quiet and beautiful home, I was a different person, I was happy and full of energy! At home, I could move mountains. So I wanted to change my working environment and have more time for myself, my children, the person I truly deeply love. I wondered how I could get to live a life that suits me.
So you have reoriented professionally and you managed to turn your dream into reality!
Julia Noyel: Yes. Today I live my life as I had imagined it.
How did you know what kind of life you want?
Julia Noyel: I took a lot of time to think about what I really want and where my strengths were. At the time, I asked myself a lot of ques- tions to find out what makes me happy, I read a lot of books and I wanted answers. I tried different methods. After having read 300 books on personal development, I realized I could not find an answer in the books, but I had to listen to my inner voice. The answer was just in me.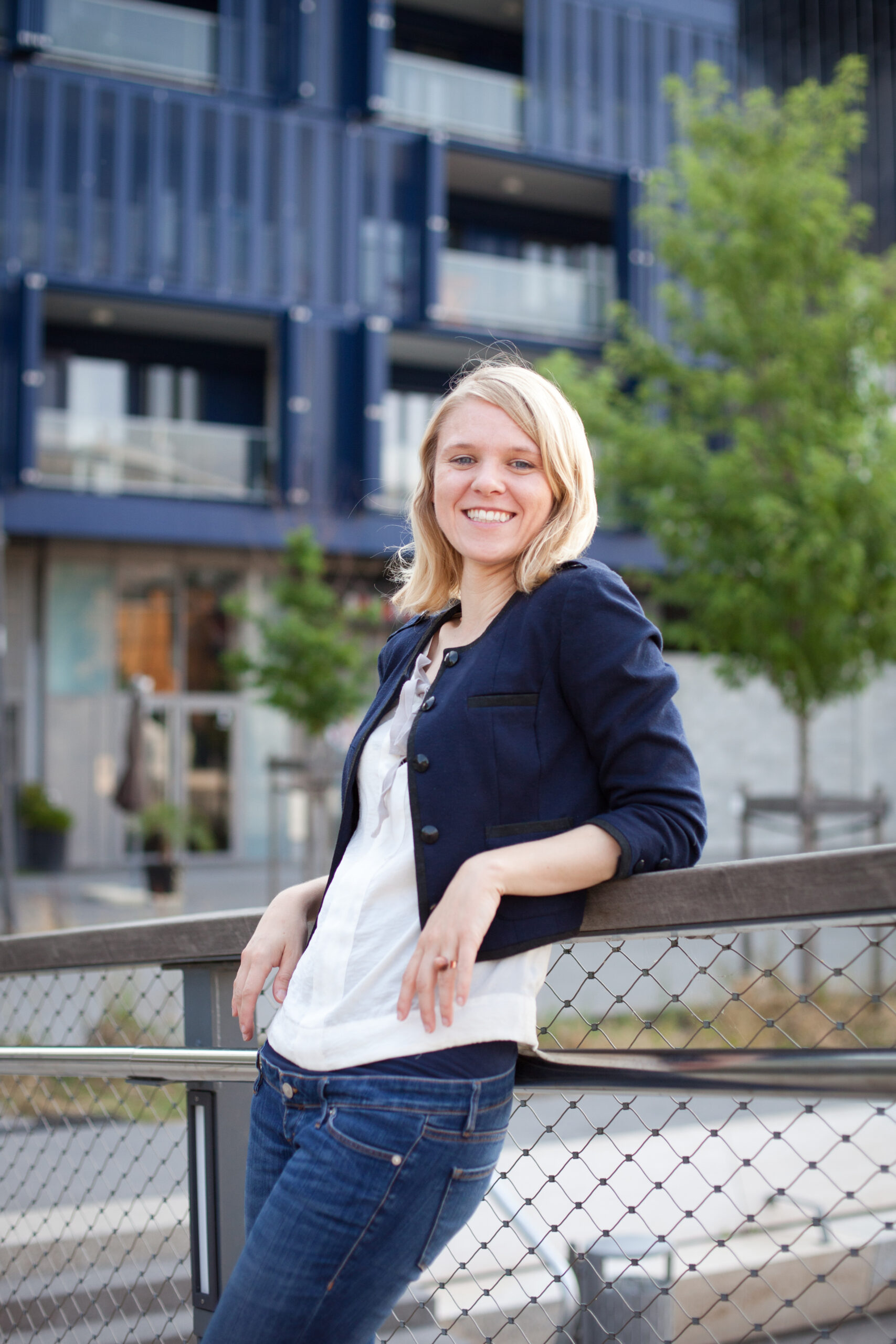 That's interesting. What is your secret? How have you changed your life?
Julia Noyel: Yes, it's a very good question: How did I do? I thought about what were my values, talent, what job and what life could match. I have thus defined the life that suits me, I have prepared my bag and then I started to go to the desired life. So I realized step by step MY life.
What question should everyone ask to be happier and to succeed in life?
Julia Noyel: It is important to listen to yourself, to be true to yourself. You should listen to your body, learn to feel, follow your intuition and get rid of false beliefs. To be aware of your true emotions, needs. Learn to distinguish "what are my own desires and beliefs, which are those of my parents, my partner, my teachers etc."
Here are some important key questions to ask:
• What is my current life?
• Am I happy?
• What is my desired life?
• What do I really want?
• Why I have not changed yet?
• Whar are my talents?
• What should I put in my backpack?
All these questions I asked to myself again and again. In my book "Black sheep live better" I go in detail how I did this, give practical exercises to help people to get answers to their questions.
What is particularly important when looking for an answer to these questions?
Julia Noyel: It is important to listen to your inner voice, intuition, not just to your reason. If I enjoy doing something, so I feel good. If I am passionate about my life, I will succeed.
What were the biggest challenges to overcome?
Julia Noyel: I am a very spiritual, creative but practical person. I would say quite a good balance between the spiritual and tangiable world. So I used a mixture of mind and energy work tools. I built a strategy, followed my action plan and used my creativity.
Are you not afraid of being excluded, of being an "outsider"?
Julia Noyel: No. I find that life is precious. I want to achieve my life my way, to be creative, create a better world, have time for my children, the person I truly love. So I began to live my life as I wanted.
But is not it a bit selfish?
Julia Noyel: It is important to lead a life that is in alignement with who you truly are, that allows you to have enough time for your children, the person you truly love. It helps you to be truly available for others.
Do you think anyone can achieve the desired life? Or were you just lucky?
Julia Noyel: I do not think it has anything to do with luck. People tell me: "You are lucky you can work from home." It is simply my choice. I worked hard for it. I believe that anyone who really wants to achieve ones desired life can do so. Anyone who knows what life is suitable who knows his or her strengths can with some methods, a defined strategy, achieve the goal.
The will, the right tools, perseverance, an active attitude is essential to achieve the desire life.
Today you are an author, coach, trainer, consultant. What are your core competencies?
Julia Noyel: I advise people who want to live a happy, healthy AND successful life. My approach is practical and spiritual. My motto is "simple creative, and intuitive." I help them to understand what they want in life; understand their personnality, find their strengths, define a vision and set a plan to achieve their goals. Once the desired life is clear, I help to release blockages, fears on the way to the desired life. I give the necessary methods and tools in hand that the client can apply in daily life. My aim is to foster my clients autonomy and self-determination. I help the client to find the own innovative approach, take full responsability for their life, success.
FOR MORE INFORMATION ON MY COACHING PROGRAMS
VISIT MY COACHING PROGRAMS HERE.
© 2013 Julia Noyel Coach Any reproduction, distribution, modification cannot be carried out without the authors' the prior consent Image credits © www.alicedardan.com, Aurelie di Pietro (picture below) Font book cover faith and glory: setsailstudios.com