Create a different, happy, healthy & successful life. NOW.
5 steps 'program to get true love back into your life'
a 10 months intensive Coaching Program
to set the foundation to attract true deep romantic love back into your life.
Succeed on ALL levels.

2222 EUR (= 7,40 EUR/day (-: )

You want to attract true deep romantic
love into your life? Have success on all levels?

Do you want true deep and romantic love for a life time?
Do you want to have children while having a true deep romantic loving bond with a partner and your time is running out?
Do you want to live together with someone, be a great husband or wife, live in harmony, have peace in mind and stop starting one fight after another?
You are INFP, highly sensitive, empath, gifted, highly intuitive, creative? Do you want to earn money with your passion? Master your unique gift?
Are you fed up with each time talking about your projects with a partner, things get worse, the person suddenly changes mind, or is finally infertile or not wanting children any longer, cheating?
Want to have a romantic, passionate deep loving relationship with the person your truly deeply love now while having enough time for your children and success with the work you are deeply passionate about?
Wondering how to reunite with your twin flame?
You don't like internet dating and you are fed up with evenings in nightclubs, dating advice?
Are you frustrated by playing games, emotional outbursts?
You are older than 35, 40 wanting now finally succeed in having children and a happy family!

You are wondering if you expect too much

what is wrong?
"Deep true romantic love is not a fairy tale
but a choice." – Julia Noyel
Go(o)d that you are here…
Let's get your love life back under control, be happy, healthy and succeed in your goals!
You can be happy, healthy & successful, and get true love into your life even after repeated failure.
In my 5 steps transformative program, I share with you the exact strategy I have used to get true love back into my life.
You

do not

need

to

be

a master to

begin

living

your

ideal

relationship!
What if I told you that you can actually get control over things and get your power back to…
Fulfill your wish of having true romance and love in your life,
overcome obstacles, succeed definitely
Be recognized for who you are
Set a solid foundation to get a deeply loving romantic relationship for a lifetime and attract the right partner, reunite with your twin flame.
Increase chances to have children and a fulfilled family life.
Set a solid foundation to earn enough money, get the right clients, and thrive
in your business on a sustainable basis while having deep love in your life.
Master your unique gift as a INFP, highly sensitive, empath, psychic, creative
Have a more balanced and healthy emotional life.
Be active to speed up twin flame reunion, impact divine timing & reunite with your twin flame

Get a strategy and tools that actually work.
Whether you are..

single or in a relationship, on a twin flame journey, wanting to speed up twin flame reunion, your deepest desire is to feel deeply and fully again, you wanna have children and thrive in your work you are here at the right place.
True deep love, a happy, helthy and successful life on a sustainable basis is what exists in the movies, only? Sorry, I don't believe so. I believe, yes, true deep love is shown in the movies and absolutely possible. It is not a fairy tale. I do not believe what others say. So if you are seeking true deep love, happiness, health nd success on a sustainable basis and you wanna put the effort in get true deep love back into your life, this program is for you.
What you will learn

In my get true love back program – success on all levels, you will discover how I set a solid foundation to get true love back into my life, how to vibrate pure divine love, develop self-management skills for a happy, healthy & successful relationship and life.

By the end of this program you will :
Know why and what is happens to you and what it takes to get true love back.
have a strategy and tools to set a solid foundation to get love into your life and attract the right partner, have children and thrive in your work using your unique talent and gift.
have a strategy to succeed and overcome your fears and confusion.
know how to release all blockages and how to raise your vibrations, stop all harmful relationship patterns
how to master your unique gift
have learned SUBSTANCEMIND© approach, my secret for getting true love back into my life. It is a revolutionary and extraordinary approach I have developed during my spiritual awakening for myself and that helped me to get quickly control back over my life, raise my vibrations, understand what was truly going on and completely changed my life
have learned an integrative mindful approach taking into consideration your left and right brain, your heart and soul and to cleanse all underlying issues on your own and not only that: 
an easy and integrative approach that helped me to get true love back into my life.
know how to stay positive and optimistic, develop a strong mind and heart, YOU, give you the confidence to be who you are, to understand, listen and use your gifts.
Most important features
Get your superpower back
Reconnect with your heart
Make others and yourself feel ok
Do it your way: accept your uniqueness
Learn autonomy: free yourself from the thoughts of others
Adopt an 'I can learn it attitude': move forward with your fears
Become a strong and inspiring leader to yourself and others
Help yourself & heal your relationship 'patterns', towards union & completion
Understand you do not need to be a master to begin living your ideal relationship
Simple:
2222 EUR (= 7,40 EUR/day (-: )
installment payments possible up to
€1222 (now) + (€500 *2, in the 3rd and 6th month) = €2222
A one-time payment of 2222 EUR
Buy Now + Get An Extra Bonus (access to email class 'Become a Master Manifestor' + 'Black sheep live better, how to realize your dream life step by step' Total value = 72 EUR)
Why are there no testimonials?
Because each story is unique and in this program I will teach you to makes things differently, trust your heart and intuition and this starts here! I do not want to influence you by other people's opinions or any marketing techniques but encourage you to learn to listen to your heart and intuition because this is my programm is about, and your struggles might be about: TRUE autonomy and freedom as well taking full responsibility for our choices in life. If you are not willing to take full responsibility than this program is not for you.
I believe, what other people believe or experience is the person's opinion and what might be good or bad for them might be quite different for you. I personally never relied on testimonials or rankings and always relied on myself. I even tried to close my eyes not to see them. This is one of my keys of success in life in general and also during my spiritual awakening period and to get true love back into my life, one of the first I wanna share with you. Before subscribing to this program dig deep into yourself and feel how it feels and what you think. Then decide.
FAQ: But how can I know this program is right for me? Well, as said below you need to listen to yourself. If you do not feel sure, take a couple of days to reflect and feel. You can watch my free webinar in order to learn more about this program. I believe if you found my program, there is a reason for it, dig deep into yourself to understand how you feel and the why and you decide if you feel that this is the right thing to do. Unsure? I invite you to watch my free webinar (duration 1hrs10) in which I share with you my story & all details about this program. Contact me.
My story

I know what it needs to succeed finally and be happy, healthy and successful and set a solid foundation to attract true love back into life.
Passing 40 years, I understood that something needed to change if I wanted to reach my goals having children finding inner peace.
When I attracted the man of my life back into my life in 2019 I could figure out the real issues and started to work full time to turn my love life 180° to create a solid foundation to make this relationship work.
Today, I help ambitious and romantic people, INFPS, highly sensitives, empaths, twin flames who want a deep romantic true love relationship for a life time, happy, healthy & successful children, and a deep fulfilling job and career to reach their goal finally and succeed. I know any issue can be solved.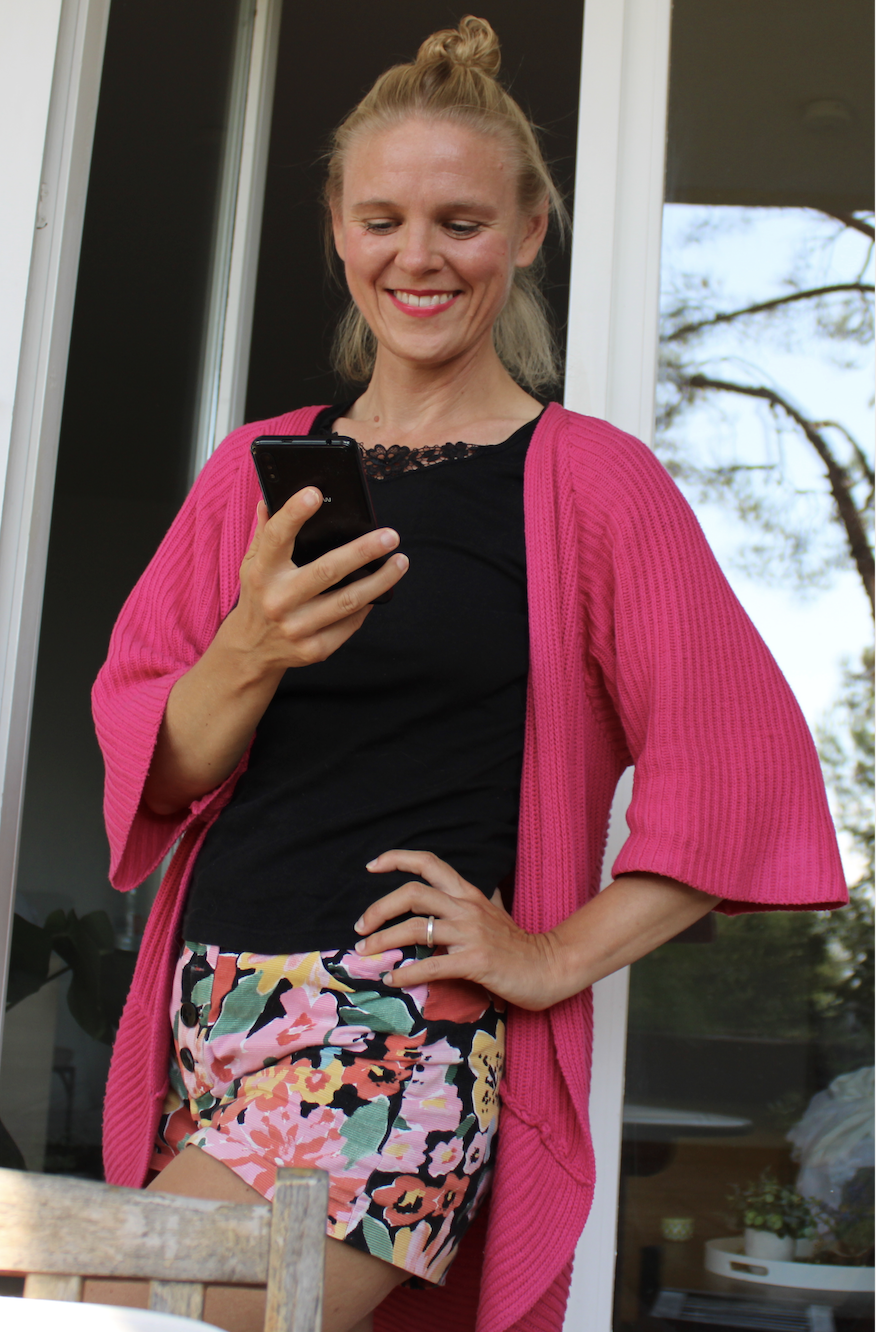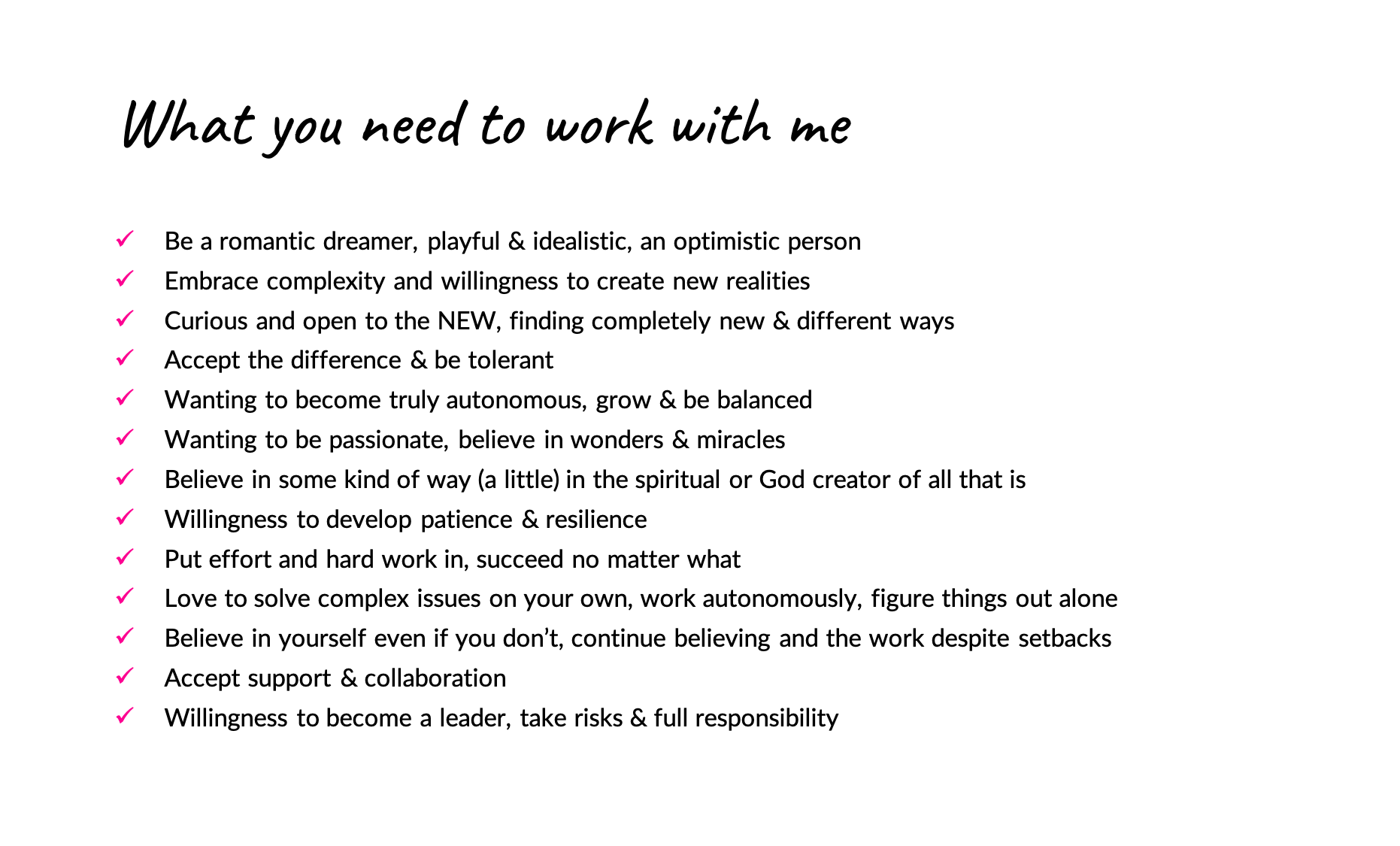 You are ready and you feel sure enrolling in this program is what you absolutely need?!
That's great! Let's waste no time and start right away to get true love back into your life!
 What is included in the 5 step transformative program towards TRUE love?
Inspiring & guided Video sessions & live sessions (once per month)
More than 41 hours content in which I share with you the exact strategy (5 steps + BONUS Step) I have used and I will lead you step by step to develop your own innovative approach and back towards true love.
Once per week you will get access to a new chapter to work through, including my success tools and my personal advice and secrets for getting true love back into your life, your relationship, and setting yourself ready for attracting your ideal partner for and being happy, healthy & successful in all areas of your life. Access to my VIP liv-brary with intuitive coaching sessions and live sessions (once per month).
Downloadable Roadbook, checklists, self-assessment etc.
You will get your Roadbook with more than 500 pages in small portions once per week for download, including Worksheets, Self-check, Self-commitment sheets. You can keep it, print it and work through it over and over again. In this roadbook, I have summarized all my secret strategy, personal actions, thoughts, reflections, tips, intuitive insights I have gained on my road towards true love, my best and most effective tools combined with the expert knowledge I have gained working as a certified coach, professional and corporate trainer, consultant in strategy, leadership and change management, and psychological advisor.
2222 EUR (= 7,40 EUR/day)
€1222 (now) + (2*€500 in the 3rd and 6th month) possible. The rate includes live group calls, email follow-up, more than 41 hours of video coaching, live sessions (once per month), 500 pages workbook, checklists, quizzes, and self-check at the end of each week + VIP video library with intuitive sessions + access to the complete programSUBSTANCECLEANSINGfor (value 1158 EUR) where I teach you also my SUBSTANCEMIND approach I have used to get true LOVE back into my life as well as access of the Master the art of a happy, healthy and successful life program and master the art of raising happy, healthy & successful children, where I teach you the SUBSTANCE-Formula (value 599 EUR + 690 EUR) + Spiritual awakening program (value 1999 EUR) + Sacred union program (value 1111 EUR)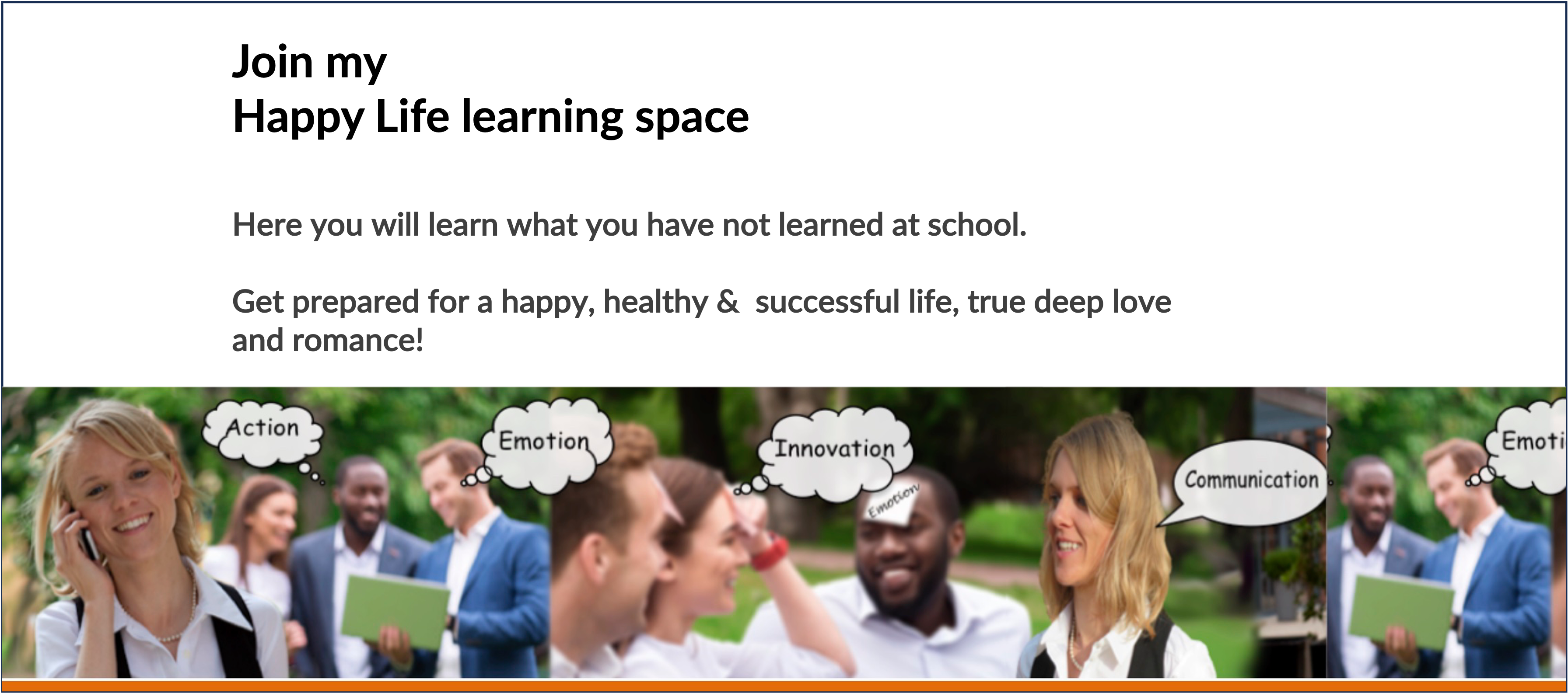 For whom?
All people who want true deep romantic love, marriage, children, a happy job, enough money, harmonie and balance wollen, attract finally the partner they truly love, INFPs, highly sensitives, Intuitive, creatives, highly gifted, empaths; all people who want to earn money with their unique gift, make this world a better world; alle people who want to reunite with their twin flame, speed up twin flame reunion, have finally success, people who definitely want to overcome conflicts, anger issues, emotional unavailability, numbness, , narzisstic relationship pattersn, who struggled until now in their relationships. All who want to learn self-management and Selbst-Coaching work on all levels, thrive for completion, balance, harmonie and inner peace and permanent happiness, health and success, mastery in their unique gift.

Unsure if this program is the best
for you?
I have prepared a detailed table for you so you can compare my programs.
Have a look at the comparison here.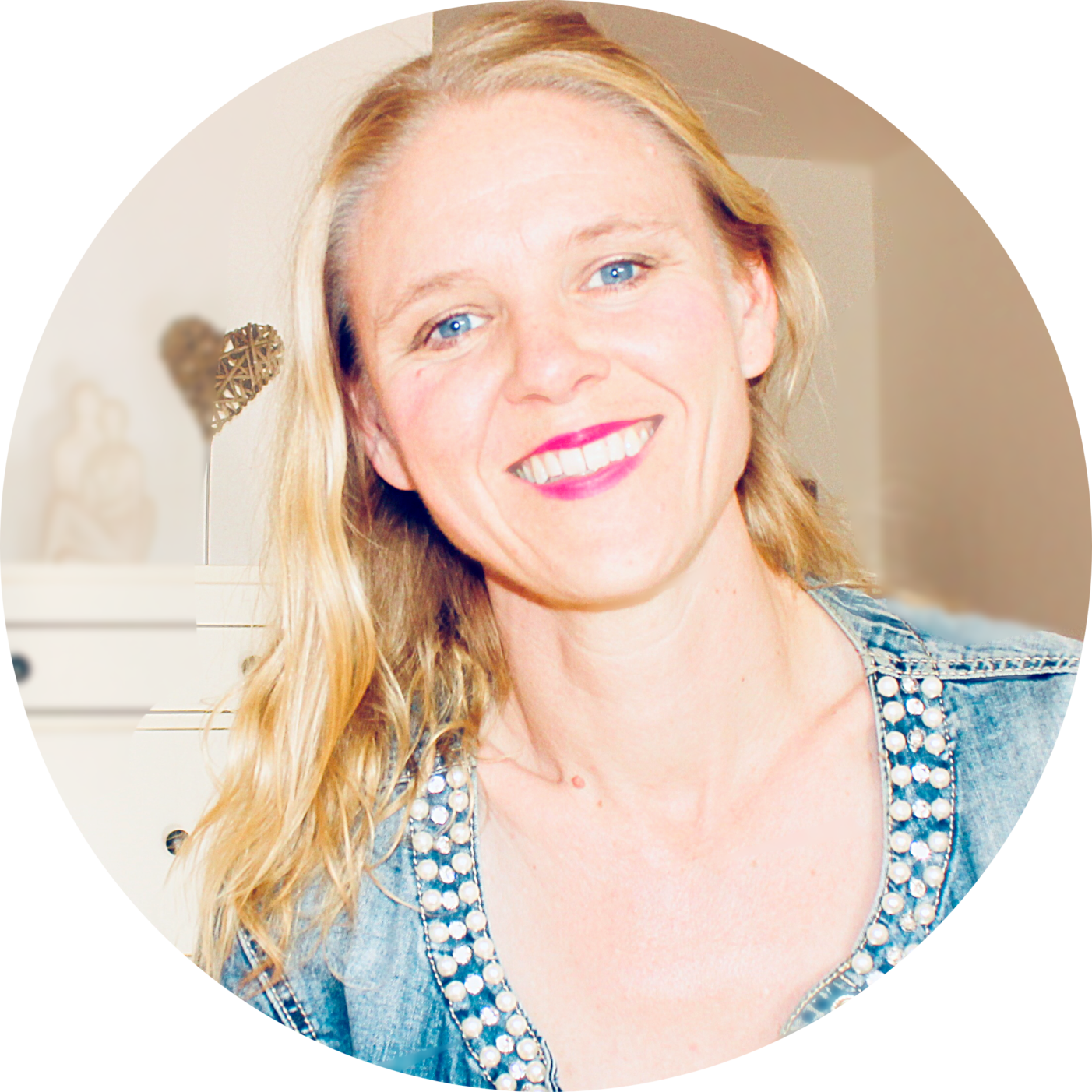 Hi I am Julia,
I am inner SUBSTANCE Coach (focus on Self-esteem & Strong Mindset), a 'highly intuitive and creative', founder of the art of a different, happy, healthy, and successful life, creator of SUBSTANCE-Formula & SUBSTANCEMIND®, expert in body-mind-soul communication with more than 20 years experience in the corporate word and business consulting, leadership in various industries such as finance, service, automotive, IT, luxary, retail sector. I am certified coach and psychological advisor, certified energy practitioner, holding a master degree in international economics with specialisation in strategy and changement management and another one international labor law and global mobility. I know how beautiful true deep love is and what it needs to be happy, healthy and successful on a sustainable basis. I am a truth and true love specialist. I made the conscious choice to change my life for the better successfully, to quit my career in multinational companies, work for my own, and a relationship to create the job I am truly passionate about and to be with the man I truly deeply love. I will help you to attract true love back into life using your own creative approach. I am absolutely passionate about authenticity, true deep romantic love, and solution, no matter how complex issues.
Being driven by excellence and perfection, I made it my mission to help people who are romantic and thriving for excellence who want a deep romantic true love relationship for a life time, raising happy, healthy & successful children, a deep fulfilling work to reach their goal finally and succeed.
Is this a validated approach?
The approach, strategy, all tools I propose, SUBSTANCEMIND® included, are considered experimental. Although they helped me solve various issues and improve my condition considerably and successfully worked for myself, and have been validated by myself for my specific case, they are NOT widely accepted nor validated scientifically. Therefore, you need to take full responsibility for your use of it. If you do not agree to take full responsibility, do not purchase or consume my services or products.
Are there any secondary effects?
During this program and all other programs included, I may present or offer you different tools and techniques in personal development, energy work techniques, or using your intuition. You are free to use the tools that I offer. Under no circumstances you are obliged to use the tools I share with you. Certain techniques (such as energy cleansing, SUBSTANCEMIND® included, binaural sounds and the use of mudras) are still at the experimental stage and may eventually have side effects not yet known. You need to be aware of the existence of possible side effects of alternative methods. You must assume full responsibility when using these techniques. You use them at your sole risk. If you do not want to take this risk, do not subscribe to this program.
What to do in case of unusual symptoms?
If you experience any unusual symptoms, please inform me and seek the advice of a health professional if necessary. Always listen to your guts and intuition as well as your mind.
Should I use/do all that you suggest?
I do not pretend to predict your future nor do I pretend to know what is best for you. The information, tools, and wisdom shared are my personal advice & opinions, and tools that worked for me. Even if the tools and advice described here have helped me and others and it is my real pleasure to share with you my experience, knowledge, and my intuitive gift to help you on your journey towards a happy, healthy & successful life, you ALWAYS need to critically reflect on what is said and chose what is the best for you, eventually adjust according to your specific case or needs. We are all different. Remember you are entirely responsible for all decisions and actions you take in life and need to use your own judgment and decision-making capacities. If your intuition says a piece of specific advice, too, product, service is not for you, listen ALWAYS to your intuition.
Should I go and see a doctor, take medication etc. ?
You absolutely should see a doctor/specialist and make/continue required analysis or/and ask for being prescribed analysis by your doctors (such as eg. regular blood & urine analysis, echography of all vital organs) as well as all normal bi-yearly or yearly follow-ups (more often depending on your specific case). Remember energy work/cleansing/personal development AND medicine are two complementary approaches.
Can I use this for any issue?
I use SUBSTANCEMIND and SUBSTANCE-Formula to solve any problem to be happy, healthy & successful in any area of my life. Of course, it depends on what you mean by any issue. (-: Please feel free to reach out to me in case of any doubts.
How fast can I expect to see results?
How quickly do you want to get results? I immediately had positive and lasting changes for some points, for others it took longer, I saw a profound change in myself after 18 months of daily work. However, it differs from case to case, and person and what topics you are working on.
I had already tried several tools and things got worse.
I understand. For me it was the same, I had tried a bunch of tools and approaches. Things got always worse. When I used SUBSTANCEMIND and SUBSTANCE-Formula, things got better for me. So there is hope for you it will be the same. The fact you were drawn to me might be a good sign.
Will I get immediately access to the class content?
Once you purchase one of my programs your program will start 48h after subscription.
Is everything available immediately?
It depends on the programs. Most programs are dripped. This means you will get your content in small portions and each week new content.
How long can I keep it for?
You can access material for one year.
How much time is required?
You are the owner of your progress and success. Ask yourself how important your project/your success is to you and how much time and effort you wanna put in? I had made my project a priority and have worked full-time using SUBSTANCEMIND for 22 months and then part-time. I spent 5 hours in the morning and between 3 and 5 hours in the afternoon/evening every single day to use SUBSTANCEMIND. Personally, I think the more time you put in, the faster you can progress and see results. But you can determine your rhythm and intensity individually.
What if it's not what I expect?
Please think and feel through it before you subscribe. Double-check with yourself if this feels/is good to you. Watch free webinar to get a feeling about how I work. Working with me requires enthusiasm, and readiness to be open to the new. The probability I share with you things you have not expected is high. My own journey back toward true love was not as expected. I had to deal with getting out of my comfort zone and rethink the world. As it is called in Tarot you might go through a tower moment, a period of great change, that sometimes can be challenging as you realize there is something different no one had told you.
Is there a guarantee?
Even though I strongly believe in the efficiency of my tools and services and use an encouraging tone and language in all my services, products, and marketing, I cannot guarantee you any results. The level of your success and the results you achieve will be subject to a number of wide-ranging factors which include for instance (but are not limited to) your specific context, background, your education and skill level, experience, time, patience and effort you put in. Testimonials, comments, and explanations on my youtube channel any other social media or website www.julianoyel.com do not constitute guarantees, warranties, or predictions.
Can I share this with a friend/teach it to others?
You are not allowed to share this with others neither in private, neither in professional context. Please notice, everything I share with you is strictly confidential. Once you subscribe you agreed to keep all information confidential. The content, strategy, tools, scripts, readings, handouts, ebooks, podcasts, videos, checklists, and any other materials or content, the knowledge I provide you within this program are typically meant for your sole personal educational use and personal development and should not be discussed, shared, copied, or distributed without my prior written permission or the copyright holder. If you have questions or wishes about sharing or teaching, using specific materials outside the course, either with your friends, your partner, your family, colleagues, clients, any other people, or on the internet, please kindly ask me by email info(at)julianoyel.com. From a legal point of view, please notice that all my material is under copyright. By having accepted to subscribe to this class you have accepted to keep this information confidential and only use it for your personal development project. The unauthorized copying, performance, or distribution of materials, teaching or use with your clients protected by copyright law may subject individuals to civil and criminal penalties if undertaken without the prior written authorization of the copyright owner. I have spent years of research, hours of work, effort, money, and time putting this class together. Please kindly respect me and the hard work and effort I put into this work.
Can I cancel the subscription?
You can cancel service within the legal french time frame as detailed in terms and conditions; however, I truly encourage you to think/feel before you subscribe and avoid cancellation. Why? Because this class is about taking full responsibility, commitment, stability, making wise and well-reflected choices in life, etc. I believe it would be wise to act in accordance with those beliefs. I am personally not so much a fan of this trend of' no-risk', 100% money-back guarantee as I believe this fosters impulsivity and not wanting to take any risks, no responsibility for our choices, etc. I believe this is counter-productive when we wanna create sustainability, learn to listen to our intuition, and not in alignment with what I teach you in this program. According to my philosophy, what one gives/the way one behaves might come back to us in any area of our life according to spiritual laws. If you do not agree with my thinking it is better you do not subscribe to this program as the whole philosophy of my work is taking full responsibility for our choices and what we attract in life. I have prepared for you the comparison of my programs to be transparent about what is included in each program.
© Photo credit: My profile picture quote – www.alicedardun.com, Aurélie di Pietro, Julia Noyel, Font by Sam Parrett, © Julia Noyel 2022 Copyright. All rights reserved.