The SUBSTANCE-Formula: How to master the Art of raising happy, healthy AND successful children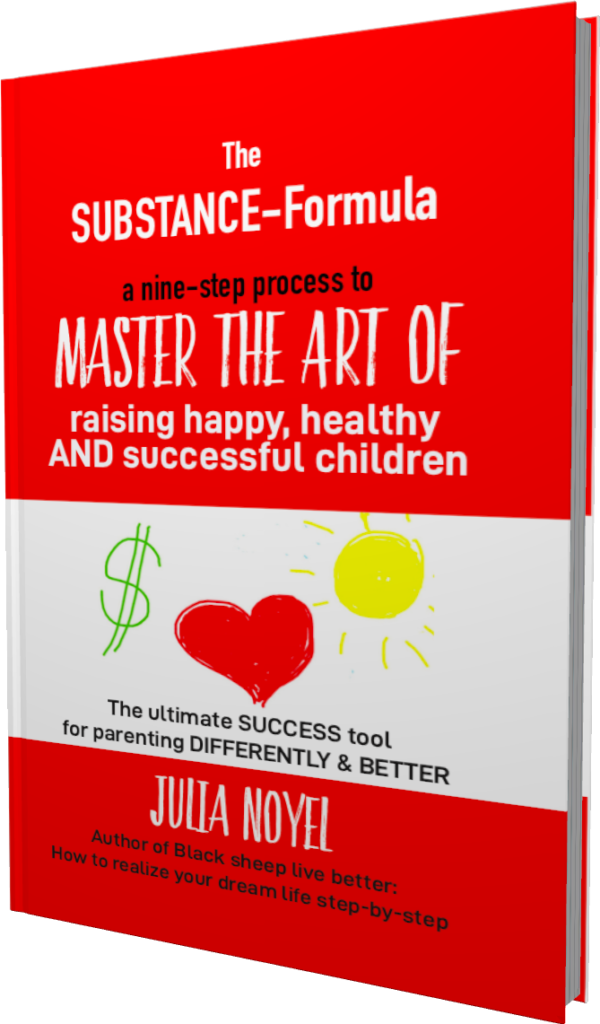 Are you planning to have children or do you have children, you want your child to be happy, healthy & successful in life? You feel scared or overwhelmed? Having children is an amazing and beautiful enterprise! You have you thought about the long-term effects of your parenting style and you are scared? You want to know what it needs to build self-confidence and self-esteem, physical and mental health for your child, how to minimize the risk of psychological disorder, and to build long-lasting relationships at work and in the private context?

When it comes to raising happy, healthy & successful children, following our intuition is not enough. In her book, Julia Noyel shares her success tool, the SUBSTANCE-Formula. Her premise is simple: If you want your children to be happy, healthy AND successful, you need a well-defined process and the right skills. In how to master the art of raising happy, healthy AND successful children, Julia shows you how the SUBSTANCE-Formula will help you in nine steps to reach your goals. You will get not only immediate results, such as more freedom, more energy, money and time available to spend with your children and on your own and to do what you love but also long term results.

The Art of raising happy, healthy & successful children will
take the stress and uncertainty away by providing you with a clear and easy to follow roadmap
make you feel safe and makes your child feel safe
help you to become a responsible parent
help you to become aware of, transform harmful behavior and adopt a healthier parenting style
raise autonomous and self-confident children
improve the bond with your child and increase your child's compliance with your demands
reduce power games, stress, anger, and resentment
reduce the risk of unhappiness, pain, and failure
help your child to have all the premises to build a happy, healthy & successful life
give you proven parenting strategies and many more!
More outcomes you get out from my guide for better parenting: Master the art of raising self-confident, happy, healthy & successful children
help you to know yourself and your child better
help you to be confident and real to yourself and with your children
help you to become a better role model and be proud of yourself
minimize financial and relationship problems for your children
make your child save money for thousands of hours of psychotherapy or coaching sessions once an adult
better relationships with your children based on more trust, love, and self-responsibility even once adults
balance your own life: more fun, more money, time, better health, more romance!
Buy guide for better parenting NOW:
Master the art of raising self-confident, happy, healthy & successful children
About the author
Julia Noyel is the founder of the Art of a different, happy, healthy & successful life and Expert for self-confidence & personal development. As a certified coach & psychological advisor, she trains globally people in how
to lead a different, happy, healthy and successful life. Julia has an extensive background in people management, leadership, change management, interpersonal communication, emotional management, efficiency, energy healing, and body-mind approaches. She has been working with children, students, individuals, couples & leaders over the past years teaching the art of a different, happy, healthy & successful life through her books, online classes, workshops, and lectures in international schools and business schools.
photo: www.alicedardun.com