Are you unhappy with your current life? Suffering from chronic pain? Not living YOUR life but a life that you thought you need to? Feeling different and not ok for wanting something different? You feel it should be different or you should do things differently, may you even tried to change, but then you listened again to others AND you are unhappy. Imagine waking up every morning feeling excited to start your day!
Become happy and realize your dream life step by step.
Whether you're already know which kind of life you want to live, or not know it at all, the eCourse is a 21-day email course designed for people who want to live their own life, change their life and live a different, happy, healthy & successful life.
Become happy and get rid of chronic pain, creating a life that suits you, living in harmony with your values, being different from others, and still feeling happy and healthy. It is possible! I know this from my own experience. I suffered from intense chronic pain 10 years ago. Since I have changed my life and my chronic pain whent away almost instantly. In this eCourse you will get all the strategies I used to change my life successfully, to be happy and help you to get rid of chronic pain.
What you will get from my 21 eCourse Realize your dream life step by step
This course is aimed to give you tools to reflect on your current and future life and move forward, take action.
Each day's lessons and exercises include a mix of reflection, visualizing, tips, and practical tools and practices for the mind. The exercises in this course will require you to be committed and willing to do them. They won't take much time or effort each day, but they will have big effects on your life.

Ready to change your life and to realize your dream life?
Looking forward to seeing you for Day 1!
By clicking here, you agree to be directed to our partner SendOwl in charge of processing your purchase and your data collected and processed for payment and delivery.
Of course you can still opt out once on payment platform. Find out more about our privacy policy here.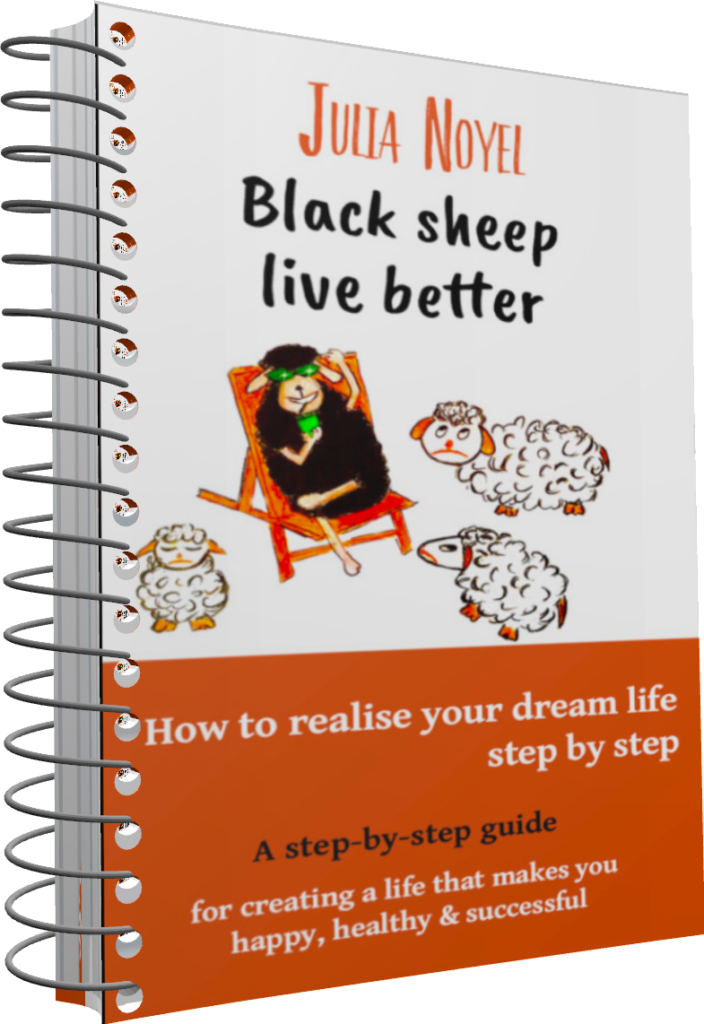 Price
39 Eur (=Less than 2 Euros per day)
Format
Daily lessons and exercises are a mixture of reflection, visualization, tips, along with practical mind tools and practices.
by email
About the Coach
Julia Noyel is inner SUBSTANCE Coach, certified Coach & Psychological Counselor and author of several self-help books including black sheep live better: how to change and realize your dream life and The SUBSTANCE-FORMULA: Master the art of raising happy, healthy & successful children, The SUBSTANCE-FORMULA: Master the art of a happy, healthy & successful life. She got rid of her chronic pain using her own tools and realized her dream life. Shehas

over 15 years of experience in the field of personal development, self & people management & leadership, consultant and trainer working for individuals and companies from various industries such as IT, retail, luxury, service with more than 10 years experience in training, coaching people. She is a lecturer in various business schools.

Expert in self-confidence & education, HSP, Highly sensitivity, empaths, Infps, creatives, communication, emotional management, people management & leadership, and authenticity, her approach is body-mind-spirit focussed. Trained in

various techniques of nonviolent communication (NVC, PET, EI etc.), NLP, management, creativity tools and energy healing (EFT, Jin shin Jyutsu, Reiki, magnetism), she has developed her own approaches: SUBSTANCE-Formula & SUBSTANCE CLEANSINGfor. two powerful programs that transformed her life and those of her clients after having studied, researched and experimented with the most effective, inspiring, and latest techniques in the field of mind & cell reprogramming, subconscious mind functioning, cell memories, energy healing, and divine & intuitive healing. Her goal is to enable everyone to be get rid of chronic pain and to become happy, healthy & successful in life.
© Photo credit: my profile picture: www.alicedardun.com, Photo by bruce mars from Pexels, © Julia Noyel 2016 Copyright. All rights reserved.